Table Top Display Boards

Table top displays boards is a use for foam boards where you need to make a trade show display economically or you want to present a school science project.
There are also exhibit displays for sale that feature custom graphics, as well as tri-fold boards with printed headers and panels.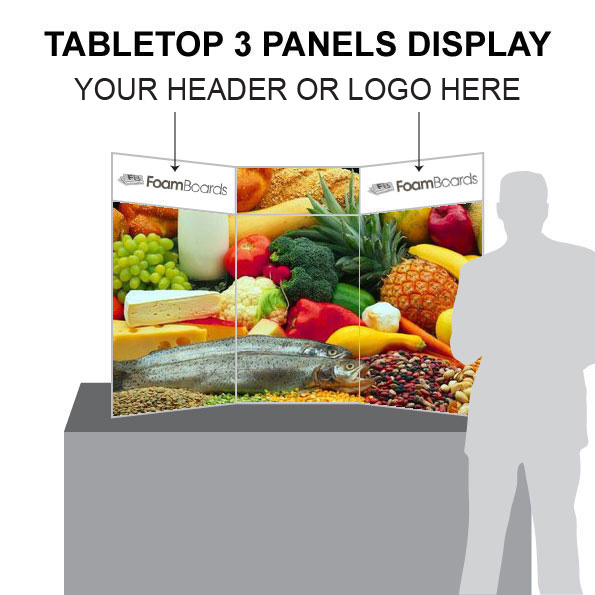 These portable tri-fold banners are commonly seen in trade show booths around the world. Exhibitors use these displays to draw visitors into their area with a clear message and vibrant graphics.

The banners are printed on foam board that is lightweight and durable. They are small enough to sit on a tabletop, yet large enough to make a huge visual impact with the intended audience.
Our table top displays for trade show feature panels of varying sizes and shapes.

The graphics can either be directly printed onto the display board or a variety of images and items can be affixed to the surface of the board with velcro tabs or double sided tape in a way as to appear three dimensional.

The portable tri-fold trade show boards are can be custom sized to suit several sizes and configurations.
The boards are printed with custom graphics and shipped out usually within 36 hours and delivery is via courier for fast Australia wide delivery within a few business days.

Customers receive via email an electronic proof prior to any final printing.
Some of these portable units could be used to display important information for a school.
The table top display boards with custom headers are commonly used outside conference rooms to indicate the current meeting in progress as well as supplemental information pertaining to the event.

What sizes are offered for these portable trade show essentials?
The standard size for most of these trade show exhibition boards is approximately 1.5m wide and 1 metre high but they are available in custom sizes upon request.
For more information please contact a member of our staff, or click one of the items in our display board section to read more about these amazing products.
The 3 and four panel display is a tabletop unit for trade shows & exhibitions.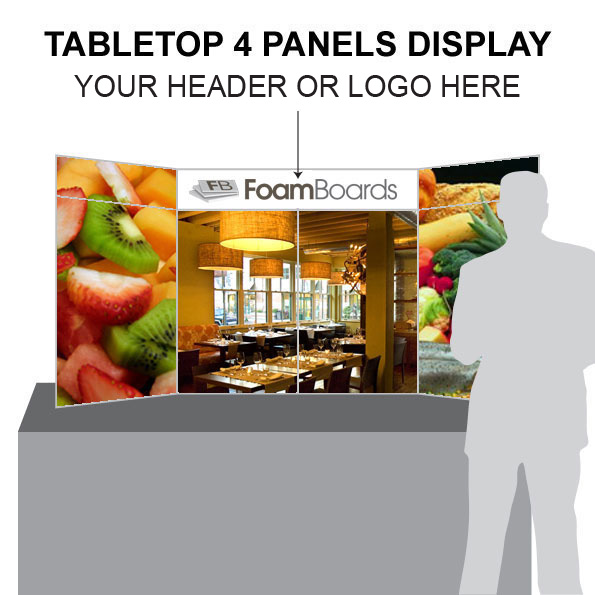 A multi-panel display, like trade show panels and counter top board displays, help you to craft an interesting display that helps turn potential clients into customers!
The different colours that are available help you to use the proper style to match the décor of the location you are presenting in for a professional look, as well as coordinate with your company's logos to match colours and make a complete looking display.
There are many varieties of trade show folding panels to choose from.
Use this style of economical display system to gain attention at your next event.

Although most of the display tri-fold boards are of the table top variety you can also construct displays from larger sheets of foam board that are tall and able to be seen from across a room. This provides ideal backdrops for use in many locations, including theatre displays, shops, at trade shows, exhibition halls, shopping centres, and a variety of educational events.
---